Parks for Pollinators project seeks to turn this support into action
A national poll conducted in 2018 by ScottsMiracle-Gro Foundation partner the National Recreation and Park Association (NRPA) revealed that 95% of Americans believe communities should make special efforts to create designated areas that support the health and growth of pollinators. Pollinators include honey bees, butterflies, and other insects and animals that spread pollen between plants, a vital step in growing a third all of our food.
While this strong recognition of pollinators' importance is encouraging, the survey also revealed a knowledge gap. Only 34 percent of Americans stated they are completely or very confident in what actions they can take to help protect pollinators.
Helping people take action
The Parks for Pollinators partnership, formed earlier this year, aims to more accurately gauge people's understanding of what pollinators are and why they're important. However, we don't want to stop there. This project also seeks to increase Americans' understanding and confidence in what actions they can take. Following are a few of the ways this project is pursuing both these goals.
Agency surveys. In five metro areas–Seattle, Providence, Houston, Miami-Dade and Chicago–local park agencies are surveying a total of 500 adults to gain a more in-depth understanding of their "pollinator IQ." When complete, these findings will complement the national survey results. Survey work is taking place in conjunction with fall park events, including pollinator garden planting.
Chicago pollinator fair. This past June NRPA,  the Ortho® brand team and ScottsMiracle-Gro hosted a Parks for Pollinators event in downtown Chicago. Approximately 1,000 children and adults stopped by the fair on a busy Saturday afternoon, where they participated in hands-on activities like creating pollinator seed balls and enjoyed gelato with ingredients made possible by pollinators. Participants also learned the importance of supporting pollinators in their communities and left with information on how to support pollinators at home. Event promotion also reached more than 100,000 people on Facebook.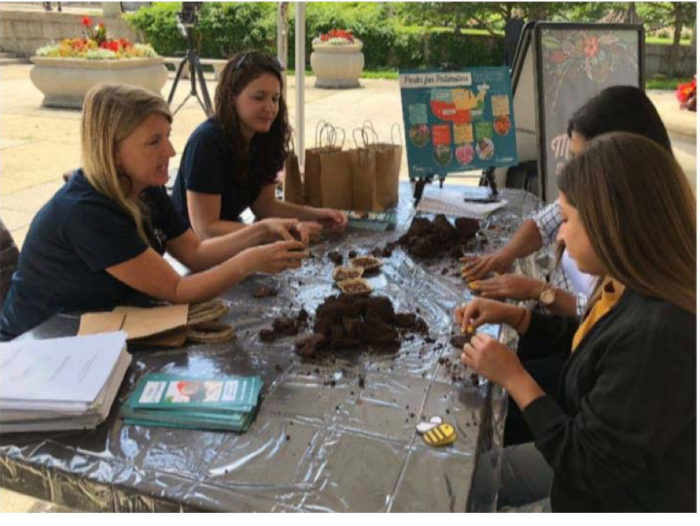 Photo contest. Also in June, NRPA ran a successful online campaign using the hashtag #Parks4Pollinators to draw attention to the importance of pollinators and local parks' role in protecting them. The contest drew 928 entries–more than any previous NRPA photo contest–across social media platforms. Local park agencies around the country promoted the contest, which crowned a weekly winner. Each winner received a gardening prize pack including Miracle-Gro products donated by our Company.
This partnership is ongoing, and we hope it will help Americans put their value for pollinators into action, both in their communities and their own backyards. We look forward to sharing more impacts in the coming months.